Holy buckets, it's been a hot minute!! I haven't written in forever but there have been a bunch of great reasons why! Had a lot of "firsts" be experienced in the last month and it's been nothing short of amazeballs. Honestly, I mean I don't think any of this writing will do it justice but I'll definitely give it a whirl! Where do I even start?! (Note to self, write more often, so you don't have to sit at your desk and recount where you have been and the awesome stories that back them.) I might do a couple blogs to separate them so they're not so long and winded. (We all know I can talk, so writing might be even longer, eeeeesh.)
So since the last time I really wrote on the blog, we've had our first Valentine's Day together (weird to most I know.) We totally delayed in planning a trip for the 4 day on Valentine's Day, so we were late in getting in on the ski trip via Outdoor Rec. Side note, just everyone understands this too, a 4 day weekend is Friday and Monday off (I'm sure most of you are "duh'ing" me right now.) The Army honors the American holiday's over here as well as German holiday's but we also get a few extra for "training holiday's", etc. I think we're guarnateed one every month?! So we try to take advantage of all of them!! So we dragged a bit in getting our Valentine's Day weekend plans set up. We missed the point of getting signed up for the ski trip through Outdoor Rec, so we planned our own trip to the Garmisch area (south of Germany, right near the Austrian border!)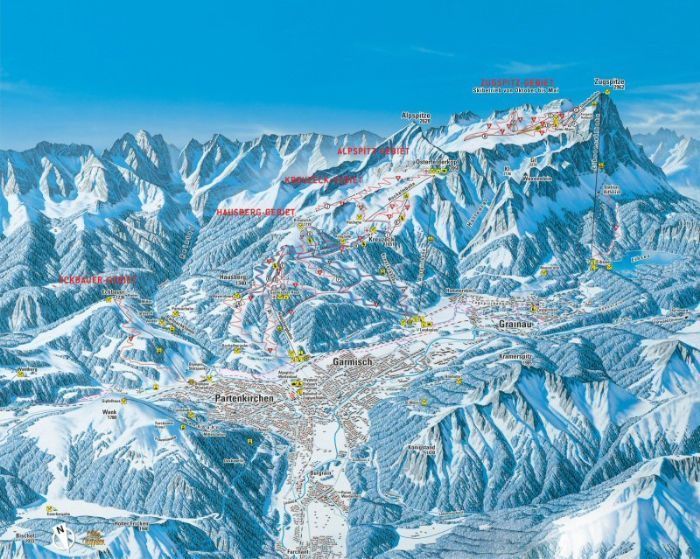 Dick found a great deal online for a hotel room for the weekend and it actually saved us some money comparative to what the ODR trip would have cost us! So we packed up the bags, the skis and snowboard and drove down to Garmisch! Great hotel and even better skiing!! Such an amazing view. We spent most of our time at Zugspitz (rather than the Garmisch Klassic area) and I mean honestly, on top of Zugspitz was probably one of the more beautiful panoramic views I've seen yet! Comparable to Lauterbrunnen but just gorge! We totally enjoyed having our car there too, so we could bounce around to see the Garmisch area and not have to bound by bus. Found a great Irish Bar in Garmisch and a lovely little Italian restaurant right in Grainau (small town we stayed in.) Overall, definitely hit up the area! Zugspitz is awesome for skiing/snowboarding. I don't recommend going to the Garmisch Klassic area-WAY too many crazy people and kids everywhere! The lines to get on a lift were absolutely ridic. We made it down 1 run and were like PEACE OUT. Drove back to Zugspitz and loved it again for the rest of the day!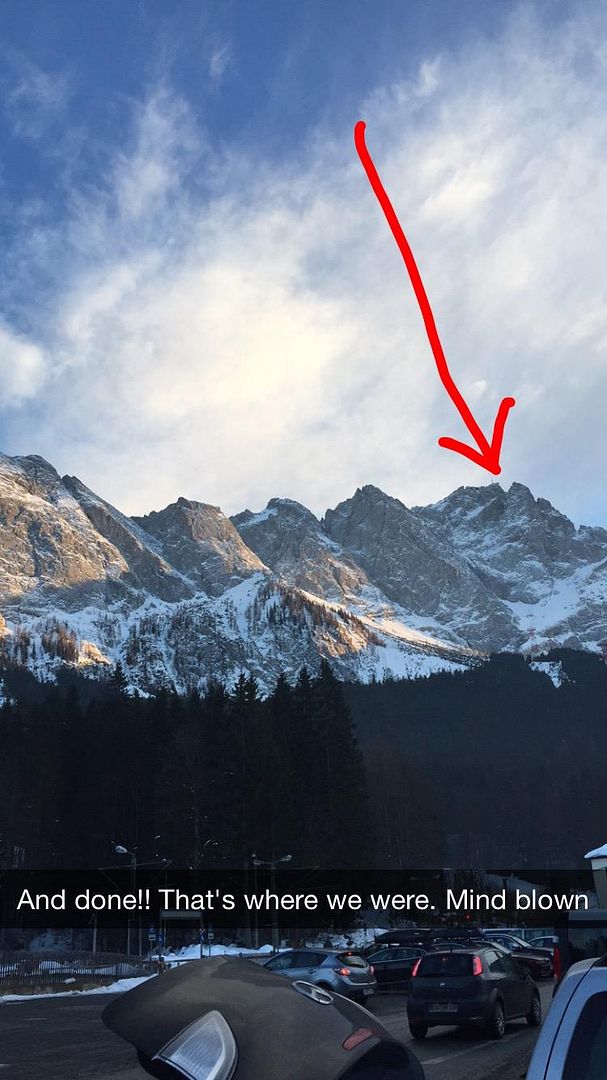 **After this trip was my sister's visit and our birthday trip! I'm going to write up a separate blog for this one! So check the next blog for all of THAT goodness!
With that said, our most recent trip was to VENICE!! Totally made the drive down to Venice, Italy and to say that I was excited is a straight up underwhelming statement! I've always wanted to go....but realistically, Venice is just not in the budget when you're living down town Milwaukee! Seeing that our living situation has changed and it's a mere 7-8 hours away...heck yea we jumped on that road trip!Again, we were planning on getting in on the ski trip to the Ski Amade in Salzburgerland but it was cancelled due to low sign up! So we were stuck trying to figure out where to go on our 4 day! My manager (yes, I'm still working as an Admin Asst...I'm sure I'll talk about that later too!) had mentioned Venice, because he has been there many times with his family. There's Aviano Air Force Base very near Venice (just a train ride away) and we have the option of checking for a room there when we travel! Aviano was booked solid so I hopped on Airbnb (I WISH I could have them advertise on my blog--I LOVE THEM!) and found a super great place right in Venice for $100/night! A cute apartment right off the water bus pick up and drop off spot. It really worked out perfectly!
So we drove down early Friday morning and it took just over 7 hours. It was a beautiful drive!! Going through southern Germany then Austria then through Italy was just cool to see! I took a pic from the car but really, it doesn't do it justice. So you'll just have to take my word for it! The drive went quick and we got to the Marco Polo Airport in Venice. Don't you think that's the most awkward name for an airport?! I mean....you probably don't want people guessing where it's at, right?! LOL
Any who, we parked there, it was the cheapest by far for the weekend and took a water bus over to the island. Once you're on the island, you can purchase a Venice water bus ticket for one day or up to 5 days or more and you go from there. There are also water TAXI's, which are different. Those are the cool looking, usually wooden, boats that you can hop on whenever, but are a lot more expensive to use rather than the water bus. Use the water bus--makes so much more sense! They have stops EVERYWHERE and you'll save your a$$ some money. Just listen to me. Do it! We bought a 2 day water bus pass ($60 euro all together) and we abused the crap out of it! Super easy to use and not packed at all! There are of course, the traditional Gondola's as well. For $80 euro you can find yourself sitting in one for 30 minutes. We totally did not do this! Way to expensive for being steered through a ridiculously tiny waterway were the buildings are you view a foot to your left and right. It was more fun for us to walk by it all and see it!
This is one of the b-e-a-u-tiful water taxi's in Venice. More expensive but pretty cool!
This is Venice Saturday morning early, and that's a water bus on the right!
We had a beautiful weekend there! Temp was between 50-60 degrees Fahrenheit the whole time and the city wasn't over run with people, highly recommend going this time of year! And just seeing everything around you is awesome!! It's all so old and so much history and there aren't any ROADS, just water ways (duh Kate!) but it's nuts to actually see it all! The ability to get lost is pretty easy! Since the building are all very tall and narrow walk ways in between them, you have ZERO line of sight for any land marks and good luck with finding and "road signs", there are very few of them on the sides of the buildings! However, if you have a data plan and it's working, you'll be just fine!! Our google maps was a gem during this trip. We did buy a 3 Euro map which was a help too!
We literally got to see everything! Drank all the drinks, had all the fun!!! It's pretty affordable too! You'll find little cafes everywhere to either grab an espresso or a glass of wine, all under 5 Euro. Restaurants are everywhere as well! So if you don't see one you like in front of you, just keep walking, you'll find one a 1/2 a block down! And the food!!! The food. So great!!! I wanted to be a garbage disposal there, but we honestly walked all over the place and we just wanted to keep seeing everything so we didn't stop all that often. Just enough to grab a glass of wine here an there!
Piazza San Marco was gorgeous! We finally stopped and sat to enjoy what we were looking at there! So many tourists and people just enjoying the great weather and the view!! It was just amazing.
We did however end up crashing a graduation party...on accident! We had stopped at a place that looked interesting and found out it was karaoke bar too. The bartender told us there was a party upstairs that was coming down to start karaoking and sure enough, a gaggle of girls busted out with some Katy Perry (as well as a bunch of foreign songs that we had never heard) and it was hilarious! At that point we got personally invited by the parent of the grad upstairs for some Tiramisu cake! Unreal. So good!!
We then followed the party to this spot out on a piazza. The grad had changed into some ugly pj's and a shower cap and was standing in front of her own huge sign with a caricature of her with a long narrative written about her via her friends. Then, intermittently the family and friends would bust out into song singing..."Dottore, dottore, dottore del buso del cul! Vaffancul, vaffancul…"
So remember I mentioned the ugly pj's and shower cap....well while this girl was reading her narrative, family and friends would walk up at random moments and pour ketchup, smash an egg or shower her with silly string all the while she's reading out loud!! We had NO idea what was going on but it was a graduation hazing of sorts!! Super interesting to see. I like the idea of the hazing AFTER the person has graduated and is moving on the next adventure of their life, not before.
Pre mess!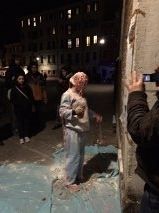 During the Graduation hazing and ritual!
Overall, Venice was amazeballs. Just a super beautiful place to walk through and take in all the history and sights. Ya know, I was telling my husband-if I was back in the states in Milwaukee and I had to pick somewhere to drive 6-8 hours away, where we would go that would be fun to see and do? Nashville was it. (Besides Chicago-have been there already a gazillion times.) But Nashville, that's it. God help me when we get back to the states, I hope we PCS to somewhere I haven't been yet, the sense of adventure and travel has definitely bitten me! There's not a lot of places a girl can live where if you drive 6 hours in any direction, you'll be in a different country!! I've never felt more blessed and grateful for this adventure we're on. As much as I really do miss home and my friends and family, I am loving this life. It's truly been an experience I'll never forget!