Well it's awesome to say that my husband and I went skiing/snowboarding again this weekend on a last minute trip and we didn't have a "I'm divorcing you as soon as we get down this hill" moment!! We had a blast!! LOL We hopped on an Outdoor Rec trip to Steinplatte, Germany. It is right on the boarder of Germany and Austria. In fact, you can actually ski down the other side of the mountain right into Austria, just gotta watch what trail you take! It's totally fine if you do go down the Austrian side too, just try to keep your passport on you just in case you get stuck or god forbid, left behind by the bus! Having too much fun in one of the chalets/lodges may cause you to look for a new way home! (For the record, that has NOT happened to me, but I have heard that those situations can and have happened!)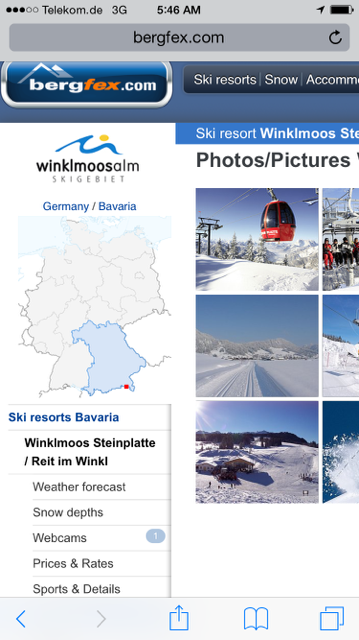 Anyways, we had a great time on Saturday (sans having to leave at 5a from post.) Woof. That was early, even my dad (who was texting me from WI was like "why are you upright now!?") Regardless, we hopped on the bus with about 35 other people and traveled down! It's about a 2.5 hour drive if you drive yourself, but it's almost 3.5 on a touring bus on the Autobahn. We made 1 stop on the way (of course with having to pay to pee, as well as getting the coupon) but we were on the mountain by 9:30a.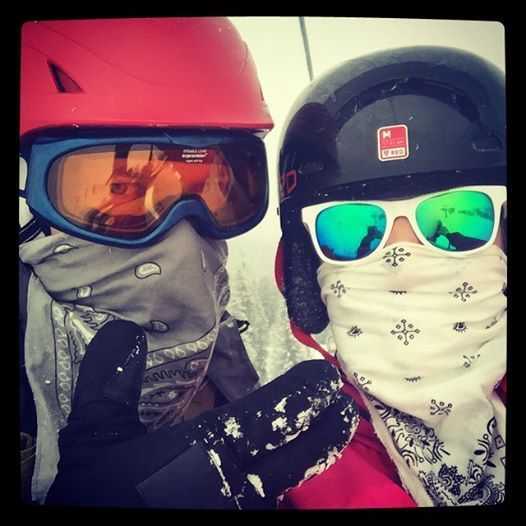 It snowed and was overcast the whole day which was actually pretty nice because it brought a bunch of fresh snow, however...it left us literally in a cloud the higher up we went. No joke, couldn't see 20 feet in front of you at one point. Which of course started a decent anxiety attack for myself. Once I turned it around in my head that I wasn't going to go straight off a cliff, I did ok. Basically what happened was that I followed a cute little "follow the leader" train of kids down a good section of the top part of the mountain until I could see where the hell I was going. Yup, that's right, I followed the cutest group of 7 years old's that were in a cute little train following each other. Hey man, do what gotta do to survive I say!!
But we got to spend the whole day together and even got some great video coming down one of the trails. I'd absolutely recommend going to Steinplatte for beginning 'boarders and skiers. They do of course have more difficult trails, I stayed far away from them as I wanted to enjoy myself and not die. We even got to sneak in a beer before we left and met the cutest woman from Ireland. Seriously, the most adorable accent ever! Which reminds me...
As we go on these group Outdoor Rec group trips, it's interesting with how the world has been as of late. We had the talk on the bus about not screaming "we're from America!!" as we're skiing down the mountain or in our groups of friends when grabbing a beer when the day was done. It's sad (but I understand) that we have to be careful with what we're wearing and what we're saying. In fact our post has gone up a notch in threat level and have ID checks at every building and security is bumped up when entering onto post. Soldiers aren't allowed to be off post in uniform for any reason. They're required to change. We also (me included with my temp job) have to report to management or your superior where you're traveling to and when you'll be back so that if something were to happen to you, they can notify the Embassy of that country, etc. It's definitely an eye opener being in a different country and how you're viewed, especially in the current social situation(s.) Better to be safe and vigilant than sorry, right?!
As for everything else, we're doing pretty good! Can't believe we're going on month #4 here! It's kinda flying by quickly and I feel like I've been here a lot longer! My sister is less than a month away from coming to visit! Cannot wait!!! It's going to be so nice to see a familiar face here & her trip will extend over our birthday weekend! We have some major plans for when she visits so I'm sure we'll have some hilarious posts coming from that! More FRG things are starting to happen and with that I'm sure will come highly entertaining stories. Stay tuned! Ciao! #merica #notfromaroundhere #29 #twinpowersactivate
Don't forget to take a sec and subscribe to my blog so you can stay up to date with all posts! Either click on the button on the right side of this page or if you're reading from your mobile device, you can still click on the right side of the screen to follow. You can also enter your email for emailed updates when I post new updates! Thank you! :)